Periodontics is a special field of dentistry that focuses exclusively on diagnosing, treating, and preventing inflammatory disease that destroys the gums and jawbone. It also includes teeth replacement with implants as well as implant maintenance and repairs. The qualified dental specialist who performs these services is called a periodontist. Periodontists are required to complete several additional years of dental training before they can practice in this field. If you need periodontics, contact Lovett Dental Northside today at 713-691-5551.
How Periodontics Can Help You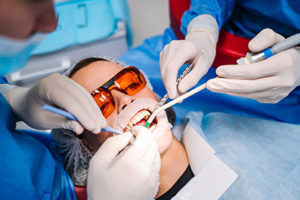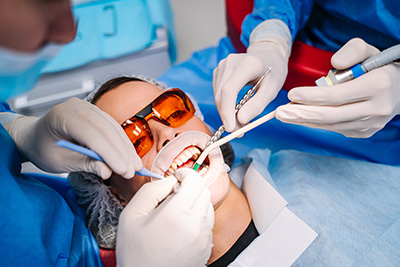 There are different types of treatments, procedures, and techniques a Texas periodontist uses to help improve their patients' oral health. Treatments routinely performed include:
Deep cleaning: Periodontal deep cleaning, also known as scaling and root planing, is a type of gum disease treatment that eliminates harmful bacteria that infect the gum.

Periodontal pocket reduction: Entails reducing the space between the gum and tooth to limit the entry and growth of harmful bacteria.

Crown lengthening: Removal of excess gum tissue around the teeth caused by advanced gum disease.

Dental implants: These are artificial tooth roots surgically placed into the jawbone or gum and covered with replacement crowns.
Periodontics also involves regenerative procedures, including removing disease-causing bacteria, bone grafts, or tissue-stimulation to naturally encourage your body to regenerate bone and tissue. These treatments help to reduce pocket depth and repair the damage caused by severe periodontal disease. Bone grafting, sinus lift, and ridge augmentation are complementary procedures to repair or rebuild the natural bone. Patients getting endosteal dental implants need to undergo some bone replacement.
Gum Disease Treatment
Periodontal disease, also called gum disease or periodontitis, refers to moderate to severe gum tissue inflammation. It is a leading cause of tooth loss. It usually starts as gingivitis and progresses to gum disease. As this happens, the gum tissues surrounding the teeth (periodontal pockets) become deeper. This treatment allows an overgrowth of bacteria, infection, and damage to the gum and bone supporting the teeth.
Periodontitis treatment is an essential aspect of periodontics. It helps to clear the infection, stop bone erosion, and prevent tooth loss. A surgical procedure called root canal may be necessary in severe cases of gum disease. Scaling and root planing is a technique your dentist uses to clean the infected tooth root. Damaged tissues, and sometimes the tooth pulp, are removed to reverse bone loss and stop gum recession.
When you combine gum disease treatment with daily oral hygiene and professional cleanings, you'll reduce the risk of losing your natural teeth. You'll also avoid health problems associated with periodontal disease.
What Happens If You Don't Treat Gum Disease?
Periodontics can effectively eliminate gum disease as long as you get them in time. Common symptoms of the disease include:
Bad breath that won't go away

Red, swollen, or bleeding gums

Pain when chewing

Sensitive or loose teeth

Receding gums (teeth appear longer)
However, periodontal disease is not always painful and may only be detected at your routine dental exam. If you skip your regular dental visits, the disease will continue to progress. Complications include detached gum tissue, bone loss, and loose tooth as bacteria continue to eat away at the structures that support the teeth. Treatment also becomes more expensive the longer you wait. If you end up losing your teeth, you may need dentures, bridges, or implants to fill the gaps left behind by the missing teeth.
Lovett Dental Northside for Periodontics
Our board-certified Texas periodontist will do a comprehensive oral exam, including X-rays and 3-D imaging, before personalizing a treatment plan. You also have access to prosthodontics treatments, such as dentures, bridges, implants, and replacement crowns, if we're unable to save the diseased tooth. Call 713-691-5551, or contact us online to request an appointment today.