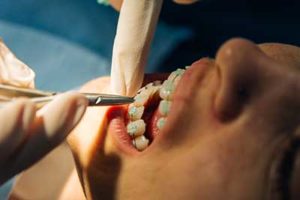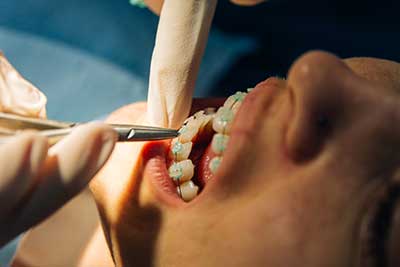 At Lovett Dental Northside, we are happy to offer dental braces and orthodontic services. Braces are some of the most effective ways of solving misaligned teeth, so an orthodontist can use braces to give you a smile you have always wanted. Get started on your path to a straighter smile by learning a little more about how braces work.
Do You Need Dental Braces?
If you are not satisfied with your smile's current look, dental braces might be a good solution. In general, braces are used to correct improperly positioned teeth. Properly aligning teeth is very important for both aesthetics and function. Besides making your smile look more even, braces also keep you from putting uneven wear and tear on tooth enamel that can lead to discomfort or decay.
Your orthodontist can assess your tooth positioning and let you know what sort of braces you need. Most people get braces in their early teens, but they are also effective if you are adults. Some signs you might be a good candidate for braces include:
Twisted or crooked teeth

Gaps between teeth

Overlapping teeth

Underbites

Overbites

Trouble chewing

Headaches
How Do Dental Braces Work?
There are multiple types of dental braces to choose from, but they all help align your teeth with the same basic principle. Braces straighten your smile by putting slow, even pressure on your teeth. Over time, this gradually shifts your teeth to a more effective position. Each person's braces treatment will be customized to fit their own unique situation. 
The process will vary depending on the type of braces you get. Usually, it involves an orthodontist affixing brackets to each tooth and connecting brackets to an archwire. Over several months, the archwire is gradually adjusted to shift teeth into position. There can be some slight discomfort associated with braces, but it is not an invasive surgery or dangerous procedure. 
What Is It Like Living with Dental Braces?
Braces are usually worn for somewhere between half a year to three years, so you will have plenty of time to get used to wearing them. If you have aligners, proper tooth care is as simple as taking out the aligners to eat and always brushing your teeth before putting the aligners back in. Taking care of your teeth with metal braces will involve some extra steps. It may take a little extra time to brush and floss teeth, but it is worth avoiding having any discoloration or staining once the braces are removed. While you have braces in, it can be a bit tricky to eat. You should usually avoid crunchy, sticky, or chewy foods like gum, caramel apples, or peanut brittle. Many people find it easier to eat with braces if they cut or tear their food into small bites before beginning to chew.
While you have your braces, you can expect regular trips to the orthodontist. During these trips, the orthodontist will assess your progress and make adjustments to your treatment plan as needed. They will regularly provide you with new archwires, aligners, or rubber bands to help your teeth get straighter and straighter. When you first get braces applied or have a fresh adjustment, your teeth may feel slightly sore. During this time, taking over the counter painkillers and eating soft, braces-friendly foods or cold foods can help you manage any discomfort. Once your teeth are in the right position, it will be time to take your braces off. Be sure to follow your orthodontist's instructions and wear your retainer the proper amount of time. This will ensure you can enjoy straight, even smiles for years to come.
If you or a loved one needs straighter teeth, Lovett Dental Northside can help. Our experienced orthodontists can evaluate your teeth positioning and discuss your options with you. We are also happy to help with other dental needs, including:
Tooth-colored composite fillings
Braces can help you enjoy straight, even teeth. Contact Lovett Dental Northside at 713-691-5551, or contact us online to schedule your consultation now.