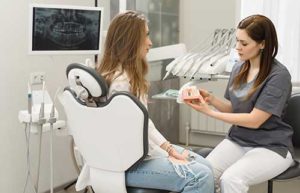 Everyone must take care of their oral health. At Lovett Dental Northside, our offices provide a wide variety of specialty dental services. In addition to our general dentistry services, we also provide everyone with access to orthodontics. An orthodontist is someone who has undergone extra training to help people with alignment issues related to their teeth, bite, and jaw. Typically associated with braces, a trained orthodontist can help with a variety of issues. Our experienced team can guide you through what orthodontics entails and help you schedule a consultation or set up an appointment so you or your family get the dental treatment necessary.
If you or your child have crooked teeth, then orthodontics can help. At Lovett Dental Northside, we're committed to providing our clients with beautiful, healthy smiles. Dental braces are one tool that we use to make this possible. To learn more about our specialty dental services, please contact our treatment team today at 713-691-5551.
Do I Need Orthodontics?
You might be asking yourself if you need orthodontics. The only way you will know if this treatment option is for you is if you meet with a trained oral health professional. A trained dentist will use various tools, including photographs, x-rays, a clinical exam, and even plaster models, to decide whether or not you need the help of an orthodontist. Some of the most common issues that an orthodontist can help with include:
Overbite: If you have an overbite, then the upper front teeth are sticking out too far forward over the lower teeth, making it hard for you to chew
Underbite: This is the inverse, where your lower teeth stick too far forward when compared to your upper teeth
Spacing: There might be gaps located between your teeth as a result of missing teeth or teeth that are not properly aligned
Crowding: If your teeth are too close together, then they might overlap each other, meaning that your mouth is not able to accommodate all of the teeth that are present
The good news is that there are various treatment options in orthodontics to help everyone who suffers from any issues above.
Orthodontic Treatment Options
For those who are suffering from alignment or bite issues, there are plenty of treatment options available. Of course, many people associate orthodontic services with braces. Typically, when we think of braces, we consider them to be for children or young adults. This is because abnormal bites usually become noticeable between the ages of 6 and 12. Therefore, orthodontic treatment usually begins between the ages of 8 and 14 years. Even though braces are usually seen as the traditional treatment option, there are other choices available.
For example, an orthodontist may recommend Invisalign instead. Invisalign trays are clear trays placed on top of the teeth and apply pressure to move them into place gradually. During the course of the entire treatment plan, each tray is going to be swapped out as the teeth start to move. Eventually, when all trays have been used, the teeth should be straight.
How Do I Take Care of My Braces?
If you or your child end up going with braces, you need to take care of them. It is critical to avoid foods such as chewing gum, popcorn, whole apples, sticky food, and corn. With brackets and wires in place, it will be harder to take care of the surfaces of the teeth constructed by this equipment. Furthermore, some food might actually break the brackets and wires. An orthodontist will go over all of this with you before the braces are applied.
Call Lovett Dental Northside for Help with Orthodontics
If you are looking for orthodontic services in the local area, then Lovett Dental Northside is here to help you. Our goal is to be your one-stop shop for all of your oral health needs. That is why our professionals have undergone extra training to make sure that we can customize our treatment plans to meet your needs. We offer a wide array of treatment options, including:
Contact us today at 713-691-5551, or contact us online to make an appointment with our team.