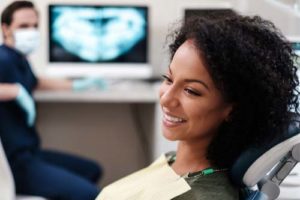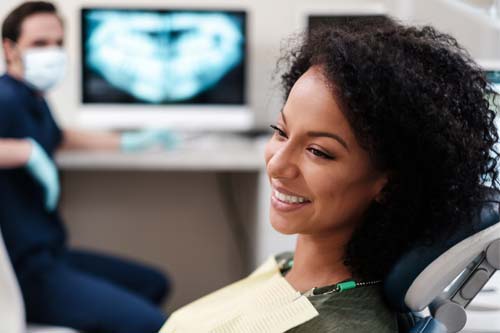 While it's easy to imagine that everyone has perfect oral hygiene, the truth is 16% of children between ages 5 and 19 and 31% of adults between ages 20 and 44 report having untreated cavities in their teeth. In fact, even if you follow your dentist's daily hygiene recommendations exactly, there are still some conditions that make you more prone to developing cavities. The good news is the dentists at Lovett Dental Northside can restore your teeth by filling your cavities. You can count on us when you need dental fillings. Our team of dentists is available to treat your entire family. We can also help you maintain your oral health through regularly scheduled checkups and exams.
Types of Dental Fillings
In the not-so-distant past, patients received metal fillings. Therefore, whenever a patient had a cavity or crack in their enamel filled, they would leave the office with an unsightly contrast between their tooth enamel and the appearance of the metal filling. Today, patients in our community and surrounding areas have more attractive options when they need tooth fillings. We use enamel-colored composite fillings when a patient has a limited amount of tooth decay, a chipped or cracked tooth, a broken tooth, or gaps in between their teeth.
Why Patients Need Dental Fillings
We are passionate about educating our patients on how they can help us keep their teeth healthy. Therefore, when patients come to us for cavity fillings, we go the extra mile to identify the cause of their cavities. After filling the patient's cavity, we work with them to make behavioral adjustments that will reduce the likelihood of more cavities developing in the future. We offer fluoride treatments to strengthen their enamel for patients at a higher risk of developing tooth decay. If the spacing and alignment of your teeth create hard-to-reach places when flossing, we can recommend a wide range of orthodontic solutions to improve your oral health by straightening your smile.
How Lovett Dental Northside Can Help
When patients come to our office for tooth fillings, our goal is to provide an effective, time-efficient procedure in our comfortable office setting. At the start of the procedure, our dentist will numb the area surrounding the affected tooth with a local anesthetic. If you have dentophobia or require a stronger anesthetic, we also offer sedation dentistry options.
Once the area is numb, your dentist will use a specialized tool to remove the decayed area of the tooth. After removing the decay, the dentist will clean the newly exposed area of all bacteria and debris. Next, your dentist will apply the tooth-colored resin in layers, curing each layer with light. After applying the final layer, the dentist will shape the surface, trim away excess material, and polish the final result.
Before allowing you to go home, a member of our team will inform you of instructions for aftercare. You will likely be able to return to your normal, everyday activities within a few hours.
If you have a chipped or cracked tooth or if you experience tooth pain, the time to resolve the problem is now. Receive treatment right away as delaying may lead to infection or the need to remove a larger amount of affected tooth enamel. Our knowledgeable dentists have the training and experience to remedy the surface level with a filling in addition to addressing the underlying causes of cavities. We will also address any underlying conditions that may otherwise cause you to develop cavities in the future. Our talented dentists are specially trained to perform the following services:
Root canals to address tooth infection
Dental crowns to protect and restore
Dental implants to replace missing teeth
Orthodontics for adults and children
Contact Lovett Dental Northside today at 713-691-5551, or contact us online.